Wednesday, November 19, 2014
Hundreds turn out as Bon Jovi receives Marian Anderson Award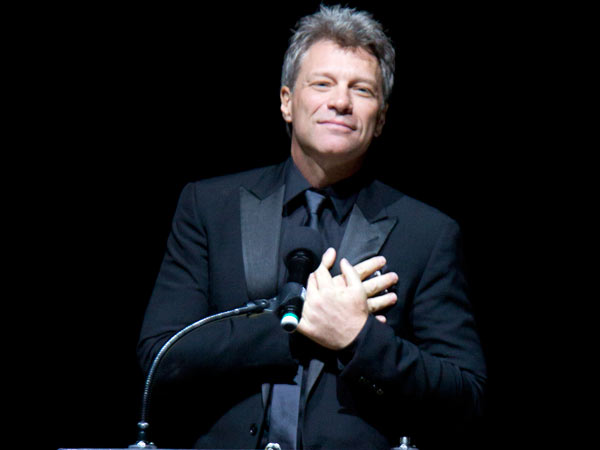 Hundreds feted New Jersey-born rock star and philanthropist Jon Bon Jovi at a Kimmel Center gala Tuesday night, where he accepted the Marian Anderson Award for his music and charity work.

The award is given to entertainers who have "contributed to our society in a singular manner," event organizers said. They highlighted Bon Jovi's music and commitment to charity, including his work with programs in the Philadelphia area and beyond.

Bon Jovi took the stage to a standing ovation about 10:30. "I'm deeply humbled to accept this award," he said, "and I do so fully aware of the rich and the powerful legacy of this honor."

The award is named for the late African American contralto and South Philadelphia High School graduate, who was celebrated as a singer of classical music and spirituals and who, when she encountered racial intolerance, gracefully fought for social justice.

Saying he never had to face the struggles Anderson endured, Bon Jovi noted: "I was, in fact, born in suburban New Jersey in 1962." He exhorted the crowd: "Let us draw inspiration from those that have come before us to do the work we are called to do."

Earlier, a host of celebrities and politicians sang Bon Jovi's praises. The comedian Wanda Sykes said Bon Jovi excels at everything he does: "Music, acting, good hair."

She drew laughs with a reference to Philadelphia's marijuana-decriminalization law: "Thanks to Mayor Nutter, we're all carrying a little bit of weed around with us now."

Later in the evening, Nutter responded: "There's nothing like being called out by Wanda Sykes."

He hailed Bon Jovi as "really just a wonderful man" and a "great artist."

An early no-show was Sen. Cory A. Booker (D., N.J.), a former Newark mayor. "If he was Mayor Booker, he would have been here," Sykes joked.

Booker arrived about 10. Explaining his lateness, he quipped: "I had to save Wanda from a fire backstage."

In a serious vein, Booker said Marian Anderson's groundbreaking 1939 concert at the Lincoln Memorial was a seminal moment in American history.

Of Bon Jovi, Booker said: "It is a true artist who has courage and creativity in their passion."

Sister Mary Scullion of Philadelphia's Project HOME said Bon Jovi "calls us to live out the American dream - to work for what our country can and should be."

Bon Jovi, who rose to prominence with his band, Bon Jovi, in the 1980s, has become known in recent years for his charity work. He chairs the Jon Bon Jovi Soul Foundation, which deals with hunger and homelessness, and has partnered with Project HOME.

Proceeds from Tuesday's gala will support the Young Artist Study Grant Program, which helps high school artists and musicians in financial need. One recipient, violinist Sean Bennett, performed at the gala.
Read more...