Friday, February 8, 2013
Bon Jovi's big twist
Rock veterans Richie Sambora, Tico Torres and David Bryan weigh in on a touring approach that's a first for them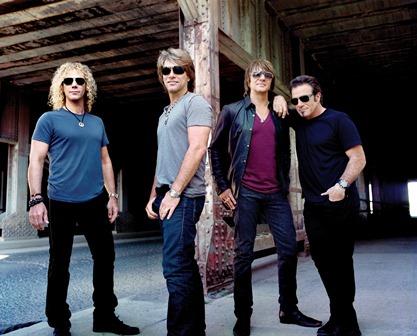 By Mark Brown
Special to MSN Music
Bon Jovi are doing it backward. You're supposed to put out the album, then tour to spur sales. But they're going out starting Feb. 9 and playing the new songs, and the album, "What About Now," comes out March 26. Deal with it. Of course, as band members note, they've done some live broadcasts already, including a London show, so any fan who is intrepid enough to search the Internet will be able to hear the new songs right now. Recently, band members Richie Sambora, Tico Torres and David Bryan (the latter riding high on his "Memphis" musical success) sat with reporters for an hour and talked about what's going on. Here are the highlights of that talk, condensed, edited, scrambled and served.
About 10 years ago, Jon was saying, "We've got to slow down. This pace is too hard." And between band shows, the "Memphis" musical, solo projects, band albums and the touring, you guys don't seem to have slowed at all.
Richie Sambora: Yes, he was basically lying to you, I think. Liars. We're liars, I'm telling you.
David Bryan: How do we keep it up? Because that's what we do; we're musicians and we love to play and make music. And with every album we get better and with every tour we get better, and it's fun, and we just keep going. I guess now really the Rolling Stones are the gate, so I guess we've got till 70-something, so we've got another couple years there.
Richie Sambora: To prepare for a tour that looks like a year and a half or something like that, you have to physically prepare for it. But once you get out there, you get in a groove, man, and like Dave said, this is what we love to do. Fortunately, it's an anomaly that we still all get along together and have a great time playing together and we're still making good music that people want to hear. And obviously by the result of our last tour, that people want to come see us play, and that's a big magnet also.
How did the new album come about?
Richie Sambora: The record has a lot of themes that we're, kind of what was happening in the world kind of pushed this record out. So the record was kind of birthed about what, you know, guys like us, we travel around the world. Our last tour was about 52 countries and the different economic situations that were happening all over the world, and how people were, more importantly, reacting to them personally. We started feeling, I think, those undercurrents all the way back then. In our particular fashion, just having a very optimistic outlook in the songs is always very important. Even a song like the first single, "Because We Can," is a song of inclusion, and also if you can help somebody, you should try to do it because you can. And sometimes it takes a village and that's because we can.
Are they all new songs?
Richie Sambora: Every album is borne out of that specific time period, a moment in time. We never were one of those bands that actually carried songs over from something that was written five or six years ago and brought that into a whole new situation. You know? Maybe it happened a few times, but not that much. So I think that every album is borne out of what's happening in the world and borne out of what's happening in our own emotional feelings. … Traveling around the world and just getting done with the tour months before, we had really seen what was happening to a lot of different countries: Spain, Italy, Greece. Especially overseas and stuff like that. And then, you know, what was happening in our country, in America. So I think we were just picking up a lot on that.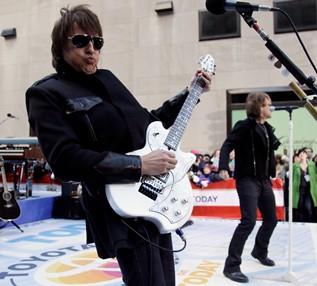 What's the goal for this year?
David Bryan: The goal is to have fun with the upcoming year. The show's going around the world. It's an honor and a privilege to walk onstage, and after this many years and still be at the top of our game and have new records and new songs on the radio. And so for me, it's an honor and a pleasure, and be prepared as much as you can for that goal. And in our job, there's no days off. You walk onstage no matter what happens in your life and you give it your all. So that is the goal, and we will achieve it.
Tico Torres: As far as preparations, you try to keep yourself a little healthier, only because you're on the road. And when you have to sing and perform, getting sick is not an option. And so, really, you're more attune to staying in shape for that reason.
To what do you attribute the band's longevity?
Richie Sambora: It starts with our dedication to touring and, you know, we've always had that adage that we would play everywhere we could in the world and take our music to every place we could. And I think that we've been very, very loyal to our fans and consequently our fans have been very loyal to us. And I think that we just write songs that people can relate to, and it becomes a part of the soundtrack of their lives. That's a privilege in itself. It's a, you know, a complex situation and a complex question, so I think there's a lot of reasons for it.
Can you get a little more specifically on the album, talk about it sonically: What does it sound like, and what, if anything, is on there that's different than what you've done before?
Richie Sambora: You know, like I said, basically for me, you know, I mean, obviously I have to put a lot of different guitar textures on every track and I'm just trying to make the lyrics speak. So, what it really sounds like is us, I think, at the end of the day. I mean, a band like us that's been around for almost 30 years now, we're not going chasing anything down but ourselves. You know what I mean? And chasing down the song and making sure that that works. And I think at the end of the day, that's the way it really ends up.
David Bryan: You put the four of us in a room, it's going to sound like us because it's us … you try to do your homework there and get the new stuff and get the cool stuff and try to make it sonically up to date, if you will, and there you have it.
What about the look of the tour?
David Bryan: With every tour we also try to up our game as well with that, without making it such a production that you lose the fact that there's a band there. So for us it enhances what we do and we really got some really cool tricks up our sleeve. It's really looking cool.
Do you feel in any way you're putting the cart before the horse: touring before the album comes out? Ideally, would you like the album out before the first tour date?
Richie Sambora: No, we kind of planned it all. This was our planning. So, no, this was part of our master plan.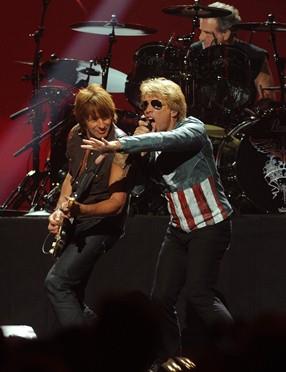 Tell us about your participation in the Hurricane Sandy relief concert.
David Bryan: As far as the band, we did the 12/12/12 concert, $50 million, which we're really proud and glad about. And I personally am involved in a bunch of charities, because I have a beach house in Bay Head, and Bay Head/Mantoloking really got crushed; my town got crushed. So the entire -- there were so many houses that got crushed and people displaced and full-time residents that aren't there and schools that aren't there and fire trucks and police cars. So we're doing everything we can to help out our town.
Have you been approached by the NFL about the Super Bowl at the Meadowlands next year, and if not, do you have interest in doing it?
Richie Sambora: Wow, man, we'd love to play for the Super Bowl. You know, I'm not, I'm not sure if we've been contacted yet or not, but I think anytime they would ask us, we would make time for that.
You've had hits in three different decades now. How do you adjust your production style through the years to always stay relevant and ahead of the curve?
David Bryan: We have a special magic cube that says how to produce stuff in every decade.
Richie Sambora: We ask the Ouija board.
David Bryan: Yes, we have the Rock 'n Roll Ouija board. ... We've had our own voice for many years and it's the next level for us. So I think the lyrics encompass what's happening when it's written, like a snapshot of that time, and the sounds are stuff that we just keep trying to push forward in new ways.
Why didn't you brand this your 30th anniversary tour?
Richie Sambora: We never thought of it.
David Bryan: Yeah, it's really true. It just kind of fell on that particular portion of our existence as a band. I don't think anybody's thinking that this is some kind of finite beginning or end at that point.
How will you introduce songs the fans have never heard before?
Richie Sambora: You know, it's the first time we've ever done this. In the band's existence, it's the first time we've ever actually toured before we put a record out, so I guess we're going to find out, aren't we? … We're here in the U.K. and we're doing BBC and we're doing about seven new songs, so it's an introduction to the U.K. as well and way ahead of time. So I guess, you know, I guess it's -- I think people will hear it by the time we get there."
Has there ever been a thing where you see a set list and you go, "Oh my God, not this song again. Why can't we do something else, different?"
Richie Sambora: How many shows have we done together, something like 3,500? You know, so I mean, it's like, every once in a while there's a set list that comes up that may not work as well as the one from the night before, but it's not a stressful kind of situation really for us at this point. You know what I mean? It's fun for us to try to the new equation out – and when I say equation, I mean the new set list – and how all that kind of rolls and what it feels like, the ebb and flow and what that comes to.
David, did your "Memphis" Broadway success change your stature in the band?
David Bryan: Yes, now they have to call me Mister.
Richie Sambora: Of course. Are you kidding me, man?
Tico Torres: How many people get four Tonys? How many people get
one
Tony? How many people can get a play on Broadway, for that matter? Geez, man.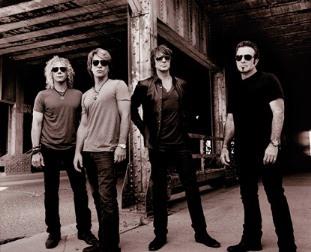 A lot of U.S. artists draw bigger crowds in Europe these days than in the states. Why is that?
Richie Sambora: I think that they're just more open to those big events. You know what I mean? … It's like almost like, you know, a tailgate party at a football game. They make it a weekend and they're ready to go and it becomes an event in that kind of a situation for them. And I think that they just got more open to it quicker or something.
Do you care that you're not in the Rock and Roll Hall of Fame? Is it political?
Tico Torres: What's always been important to us is what the people enjoy and the People's Choice Awards. We've always gotten something that people … enjoy the band. Hall of Fame, you know, it's nice to be in the company of so many great groups. There's a long list of great bands that need to go in there, and there's only a few that can go in every year, so, I mean, it's an ongoing thing, but you don't lose sleep over it to get something that, you know, even just being nominated is an honor. It's nice to be in that company. But geez, there's such a long list of great, great musicians in the past and some that are still alive that are eligible as well, so I think it's a wonderful venue.
Richie Sambora: I'd like to hope that we're in there before we're dead.
David Bryan: That'd be nice.
Richie Sambora: Before we're in the grave, you know what I mean? That would be nice. But I don't think anybody's dwelling on it, you know?
source
Read more...